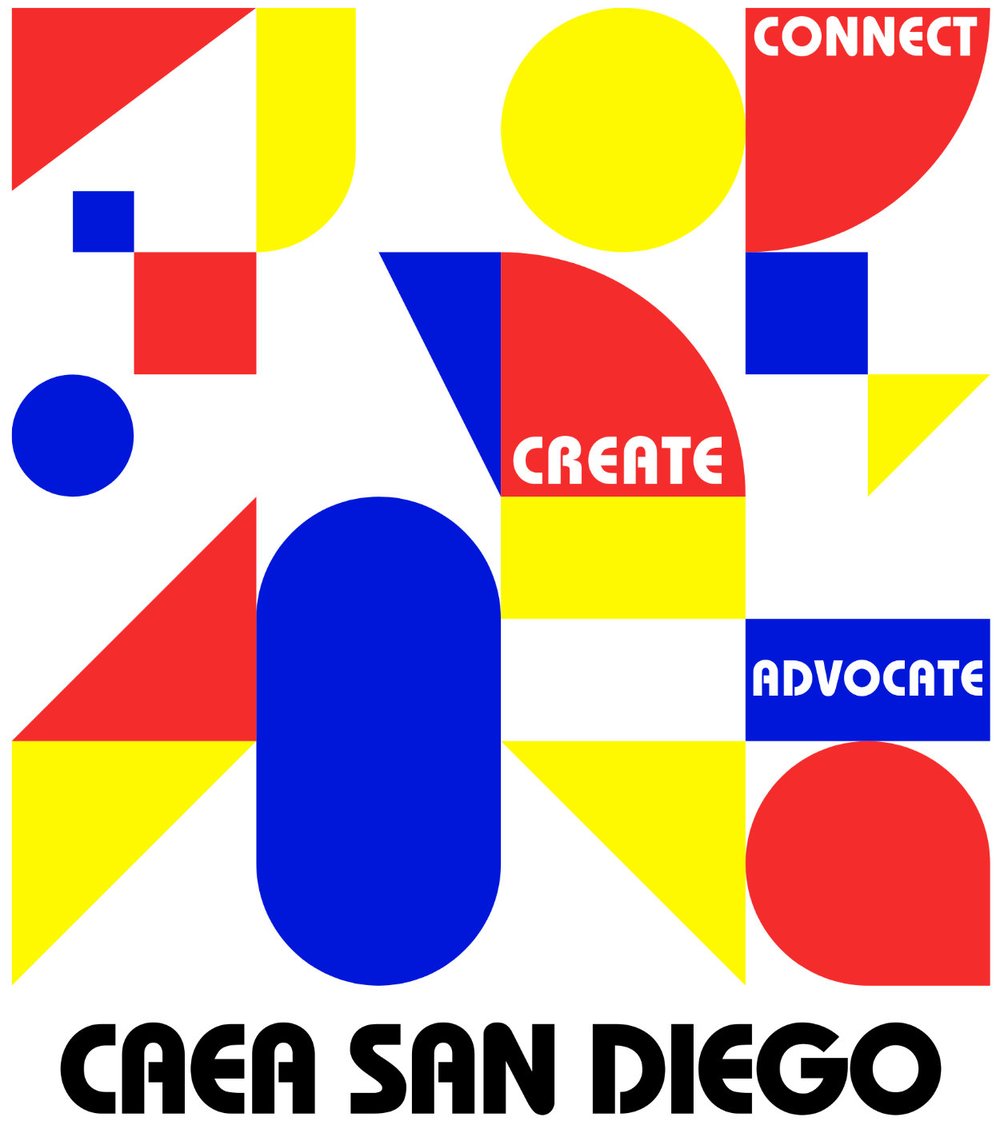 CAEA San Diego/Southern Area 2023 Fall Conference: Compelling Stories, Authentic Voices
November 4, 2023 — Onsite Conference Events
November 5, 2023 — Chicano Park Mural Tour

UC San Diego Park and Market
1100 Market Street, San Diego, CA 92101

Contact: Alyssa Navapanich, [email protected]
Workshops
This is our current list of workshops. Please check back for any changes or additions to these offerings.
DEI Research-Based Art Practice
Explore the synergy of research-based artmaking, fortifying artistic concept and production unity. Discover designing curriculum for ambitious, personalized student artwork. Understand diverse research processes – scholarly, experiential, collaborative – and their impact on creative practice. Learn pedagogical strategies to empower students in initiating, developing, and experimenting within their art, fostering a research-enriched journey.
Learning Filmmaking: Short B-Roll Documentary
Equip students with captivating visual storytelling skills through a documentary with 90% B-roll footage. Craft polished narratives for Story Corps or local history collections. Identify compelling stories, capture flawless audio, plan B-roll through acting or images, and edit, emphasizing B-roll storytelling. Adaptable for various levels, boosting students' digital media confidence and teacher proficiency.
Creating for Belonging: Collaborations Across Campus
Discover collaborative K-5 art and DEIB educator projects, igniting students' exploration of identity and social justice through visual arts. Drawing inspiration from Bisa Butler and Langston Hughes, attendees will learn via practical tools, lesson plans, cross-disciplinary projects, and resources. Explore learner-centered lessons that align with standards, fostering inclusivity and belonging.
My Two Homes & The Latinx Teaching Artist Fellowship
Explore "My Two Homes," a 10-month arts curriculum by Root Division, taught by Latinx Teaching Artist Fellows in San Francisco. Discover how it aids Latin American students in transitioning through immigration. Unveil its role in storytelling, tradition, and creating a healing space. Delve into findings and engaging activities, including Collaborative Mural Projects and Home Sculptures. Converse and inquire at the session's close.
Animating the Soul of Inanimate Objects: Exploring Media Arts with Stop Motion Animator Kenta Shinohara
Explore Kenta Shinohara's innovative world of manga and stop motion art in K-12 classrooms. Learn through dynamic presentations, artwork analysis, and hands-on stop-motion movie creation. Educators will be empowered with comprehensive lesson plans, fostering global perspectives and digital literacy. Participants will engage in practical activities, guided by Shinohara's art, infusing their own stop-motion movies with personal creativity and meaning.
Kamayan: Fiber Project Experience a kamayan feast through fiber art!
Explore traditional Filipino cuisine while creating a community project. Learn about kamayan dining and craft techniques like crochet and weaving. Contribute to replicating dishes like garlic rice, barbecues, roasted pork, noodles, seafood, and desserts in fiber form. Join this collaborative art endeavor, fostering community and shared creativity.
Unveiling Hip Hop's Transformative Connection to SEL and EDI in Arts Education
Embark on a journey exploring hip hop's connection to social-emotional learning, equity, diversity, and inclusion in arts education. Discover how artists like Kendrick Lamar and Nipsey Hussle inspire critical thinking, social justice advocacy, and cultural influence. Learn to weave these themes into curricula through visual storytelling and interdisciplinary collaboration, fostering a culturally relevant and equitable learning environment. This session equips teachers with tools to engage students authentically, promote empathy, and empower diverse narratives.
Spark Creativity: Illuminating Learning with Graphite Circuits
Engage in the Graphite Circuits project, merging critical thinking with electric circuit knowledge. Create art pieces transferring energy to illuminate an LED bulb, fostering innovative exploration at the intersection of science and art.
Choice in the Studio, expressed through Play and Experimentation
Elevate creative confidence in learners via choice and student agency. Discover the 3-sentence curriculum (Artists' role, child as artist, classroom as studio) through an interactive TASK Party. Explore choice-based studios' equity and autonomy benefits, personal classroom practices, and divergent pathways. Engage in an educator community, embracing Teaching for Artistic Behaviors pedagogy.
Exploring Social Emotional Learning through Emotion Portraits
Explore the Emotion Portrait Project, merging Social Emotional Learning (SEL) and art education. Craft vibrant works of art, using color and pattern to visualize emotions. Gain insights into SEL's value in fostering well-being and academic growth. Integrate practical strategies to nurture social and emotional skills in the classroom. Engage in hands-on experience, discussion, and resource sharing.
Opportunities for Artists in the field of Arts in Health
Discover Arts in Health: its scope, opportunities, and educational pathways. Unveil professional satisfaction for artists across media in healthcare. Explore training possibilities for Health Care and Public Health roles. Delve into the scientific underpinnings of this dynamic field while learning about opportunities for educators and their students.
"Friends & Strangers" in the Classroom
Join Art21 for a session on the newest Art in the Twenty-First Century episode "Friends & Strangers," which premiered on PBS in October. In "Friends & Strangers," the artists we learn from facilitate collective responses to hardship, build and sustain communities, and do the work of bringing us closer to one another. Artists often play the role of connectors, creating literal and metaphorical common grounds upon which we can gather. By truly examining the ways in which we come together, these artists find strength and beauty in unity and the human spirit. Learn how the artists, artworks, and themes featured in this segment can be applied to the classroom. Explore prompts and activities from the brand-new Educators' Guide.
Discover ICA's Valise Project
The Valise Project was inspired by Marcel Duchamp's miniature representations. Designed as teaching tools for K-12 students, this program is designed to span the curriculum while fostering curiosity, exploration, and artistic development. Unveil artists and themes, engage in active discussions, be introduced to new art-making techniques, and create a piece based on either Alison Moritsugu or Ruben Ochoa.
Leveraging the Power of Art through Literacy and STEAM Programs
Discover how Oceanside Museum of Art's culturally responsive exhibitions enliven literacy and STEAM education. Unveil innovative teacher lesson plans, original videos, and reproduction art posters. Explore art's connection to reading proficiency, questioning strategies, and inclusive classrooms. Engage in dynamic lessons, leveraging art as a literacy and STEAM teaching tool.